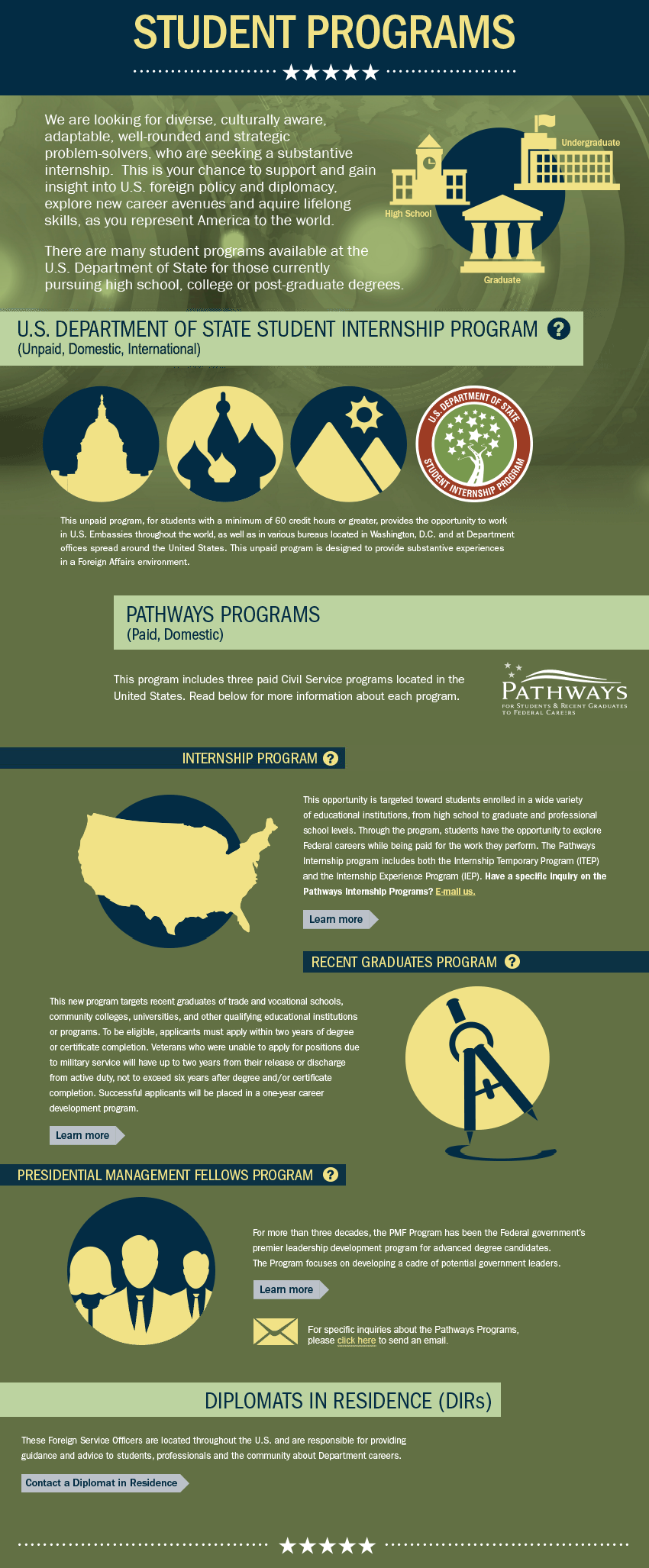 Student Internship Program
How far could a student internship at the U.S. Department of State take you? Just for starters, it would give you a greatly coveted inside look into Foreign Service, the positions and the responsibilities that are possible.
Think of it as test-driving a career before you decide what you're going to do with your life. You'll gain valuable work experience that you'll be able to apply to virtually every endeavor — whether you work in government or in the private sector. Most of all, you feel good about doing something worthwhile for your nation.
Intern in Washington, D.C. or Overseas
At the U.S. Department of State, we like to say that we represent America to the world. As an intern here or abroad, you will, too. The U.S. Department of State Internship Program is an unpaid internship with the opportunity to work in U.S. Embassies and Consulates throughout the world, as well as in various bureaus located in Washington, D.C. and at Department offices spread around the United States. This program is designed to provide substantive experiences in a foreign affairs environment. More information will be available over the next few months. Please subscribe to receive email updates regarding this program.
For internship program details such as duties of an intern, participating offices and bureaus, types of internships, and housing information, please view and download the Student Internship Brochure.
Eligibility Requirements
U.S. citizenship
Have good academic standing
Successfully complete a background investigation
Be able to receive either a Secret or Top Secret clearance (pdf).
You may be subject to random drug testing.
Furthermore, you must be:

A student. This means you have been accepted for enrollment, or are enrolled as a degree-seeking student in an accredited college or university
A full- or part-time continuing college or university junior, or graduate student (including graduating seniors intending to go on to graduate school). An applicant is considered a junior if he/she will have completed all sophomore credits (60 or more hours or 90 quarter hours) by the time the internships begins and will be entering at least the junior year immediately upon completion of the internship.
IMPORTANT: You are eligible to apply for the Department's internship program if you have not yet completed your registration at a college or university for graduate or post-graduate studies (including law school) or are awaiting an admissions determination for graduate or post-graduate studies (including law school). However, if selected for an internship, you must provide proof that you have registered, or have been accepted for enrollment for studies in the semester or quarter immediately following the internship before you can begin your internship.
We seek a broad range of academic majors; in fact, regardless of your major there's an opportunity for you.
For overseas assignments, applicants must present evidence of medical insurance coverage. All students must be available to begin their internship within the appropriate application timetable.
Compensation and Benefits
Unpaid Internships may be able to earn college credit.
Unpaid interns assigned to the U.S. qualify for SmartBenefits Metro Transit Subsidy.
How to Apply
Please visit the U.S. Department of State Student Internship Program page for more details on how to apply.
Please subscribe to receive email updates about this position.
All applications are submitted online through the "Gateway to State" system, which also screens applications to make sure that they are complete, and that applicants meet the eligibility criteria.
You can also visit the Career Resources Download Center for a list of Position Descriptions.
For more information on how bureaus select interns, and more detailed information on the application process, please view and download the
Student Internship Brochure.
Technical Difficulties: Please contact the helpdesk mgshelp@monster.com or phone (866-656-6830) if you are having technical difficulties.
Pathways Programs
The Internship Programs include both the Internship Temporary Program (ITEP) and the Internship Experience Program (IEP). Both are targeted toward students enrolled in a wide variety of educational institutions from high school to graduate school and professional school levels. Both provide students with opportunities to explore Federal careers while being paid for the work performed.
ITEP– Under this program interns are no longer eligible for non-competitive promotions. Those qualified must compete for higher grade level positions. The ITEP interns will be appointed for one year or projected graduation date (whichever is shorter) and extension may be made in one year increments only. ITEP interns are not eligible for benefits until completion of one year of continuous employment. Once this requirement is met, ITEP interns are eligible for benefits and must pay the full premium.

Please subscribe to receive email updates regarding the Pathways Program.

IEP – Interns in this program are permanent excepted service appointments and do not have a Not to Exceed (NTE) dated. Interns are eligible for promotions, reassignments and benefits (e.g. FEGLI, FEHB). Each intern must have an Individual Development Plan (IDP) in place following acceptance as an intern. Additionally, any requests for training either, at the Foreign Service Institute or external courses, must be approved and funded by the employing bureau.

Please subscribe to receive email updates regarding the Pathways Program.
For specific inquiries on the Pathways Internship Programs (ITEP and IEP), please contact HRSC@state.gov.
This program targets recent graduates of trade and vocational schools, community colleges, universities, and other qualifying educational institutions or programs. To be eligible, applicants must apply within two years of degree or certificate completion. Veterans who, due to military service, were unable to apply for positions, will have up to two years from their release or discharge from active duty, not to exceed six years after degree and/or certificate completion. Successful applicants will be placed in a one-year career development program.
For more than three decades, the PMF Program has been the Federal government's premier leadership development program for advanced degree candidates. The Program focuses on developing a cadre of potential government leaders. Under the regulations proposed by OPM, the eligibility window for applicants is expanded, making the program more "student friendly" by aligning it with academic calendars.
For specific inquiries on the Pathways Program, please contact HRSC@state.gov.
Other Student Programs
The Council of American Ambassadors provides six fellowships in honor of Ambassadors Walter and Leonore Annenberg. The Fellowship program combines mentoring by former U.S. ambassadors, practical training through internships at the U.S. Department of State and, in cooperation with The Fund for American Studies, academic studies in international affairs at George Mason University, as well as residential housing at George Washington University. The Fellowship provides a $7,995 award to each student that is applied to cover the cost of summer program.
The Fellowships are open to undergraduate students:
who have completed their junior year prior to the commencement of their internships.
who possess a strong interest in pursuing a career in diplomacy or international affairs, whose backgrounds should reflect a high level of academic excellence and leadership in extra-curricular activities.
Compensation and Benefits
Tuition paid for six credit hours at George Mason University
Eight weeks of paid residential housing on George Washington University's campus
The Fellowships are available only during summer sessions.
The U.S. Department of State will forward applicants chosen for internships in Washington, D.C., and who have authorized the Department to provide their information to other organizations, to the Council of American Ambassadors for consideration. The Council will invite eligible candidates to apply for the Fellowship and provide the application instructions.
How to Apply
For more information about this program, please visit www.americanambassadors.org. Inquiries may be sent to council@americanambassadors.org.
The Pamela Harriman Foreign Service Fellowships, sponsored by the College of William and Mary, will provide a $5,000 award for two U.S. college students to work in the U.S. embassies in Paris and London and one U.S. college student to work in a component of the Office of the Secretary. The Fellowships are available during summer sessions only.
The U.S. Department of State will forward applicants for internships in London or Paris or in a component of the Office of the Secretary, and who have authorized the Department to provide their information to other organizations, to The Pamela Harriman Foreign Service Fellowship Program for consideration.
Eligible candidates will be contacted with instructions on applying for a Harriman Fellowship. The Harriman Board has determined that only undergraduate students entering their junior or senior year and graduating seniors continuing their studies will be considered for a Fellowship.
How to Apply
Inquiries should be sent to: harriman@wm.edu or mailed to:
The Pamela Harriman Foreign Service Fellowship Program
PO Box 8795
The College of William and Mary
Williamsburg, VA 23187
If you are a student or recent graduate with a disability, the U.S. Department of State has opportunities for you. We have partnered with the Department of Labor's Office of Disability Employment and Policy, and the U.S. Department of Defense's Office of Diversity Management & Equal Opportunity, who administer the Workforce Recruitment Program (WRP), to hire college students and recent graduates with disabilities. The WRP is a recruitment and referral program that connects us to highly motivated postsecondary students and recent graduates with disabilities. We offer paid, full-time summer positions in Washington, D.C.
Eligibility requirements and How to Apply
To be eligible for the WRP, candidates must be current, full-time undergraduate or graduate students with a disability, or have graduated within one year of the release of the database each December. For the 2015 WRP, a student who has graduated in October 2013, or later would still be eligible. Candidates must also be U.S. citizens.
If you are an eligible candidate, share this information with your school's disability services or career services coordinator, and ask him or her to contact the WRP Coordinator at wrp@dol.gov. Please understand that we work directly with college coordinators, and cannot respond to inquiries from individual candidates.
The Virtual Student Foreign Service is part of a growing effort by the State Department to harness technology and a commitment to global service among young people to facilitate new forms of diplomatic engagement. Working from college and university campuses in the United States and throughout the world, eInterns (American students working virtually) are partnered with our U.S. diplomatic posts overseas and State Department, U.S. Agency for International Development (USAID), the U.S. Department of Agriculture (USDA), the Broadcasting Board of Governors (BBG) and the U.S. Commercial Service domestic offices to conduct digital diplomacy that reflects the realities of our networked world. This introductory video provides an overview of the VSFS program.
To Apply
The application period for the eInternship program typically opens in July each year. If you're interested in receiving periodic notifications about the program, please sign-up under Keep Me Informed.
Program Details
VSFS eIntern duties and responsibilities will vary according to the location and needs of the VSFS projects identified at the sponsoring domestic or overseas diplomatic office. VSFS projects may be research based, contributing to reports on issues such as human rights, economics or the environment. They may also be more technology oriented, such as working on web pages, or helping produce electronic journals. Selected students are expected to work virtually on an average of 5-10 hours per week on VSFS eInternship projects. Students apply in the summer and if selected, begin the eInternship that fall lasting through spring. Most work and projects are internet-based and some have language requirements. Past projects asked students to:
Develop and implement a public relations campaign using social media sites like Facebook, Twitter, MySpace, YouTube, etc. to communicate and reach out to youth
Conduct research on the economic situation, prepare graphic representations of economic data, and prepare informational material for the U.S. Embassy website
Create a system to gather and analyze media coverage on a set of topics including environment, health, and trade
Research IT-based interventions that have been successful in higher education, particularly in teacher training
Write and contribute biweekly articles to the U.S. Embassy's Facebook page on topics such as internet, computer science/technology, history, and literature
Develop a series of professional instructional video clips to be published by the U.S. Embassy
Survey social media efforts of U.S. diplomatic posts, NGOs, and private companies around the world to help establish best practices in a U.S. Embassy's social media outreach business plan.
For more information on VSFS, please visit the FAQ section. Email VSFS@state.gov if you have questions that were not addressed on the FAQ site.
The job announcement for this internship program has closed. We anticipate accepting applications for this program once again during late-September 2017.