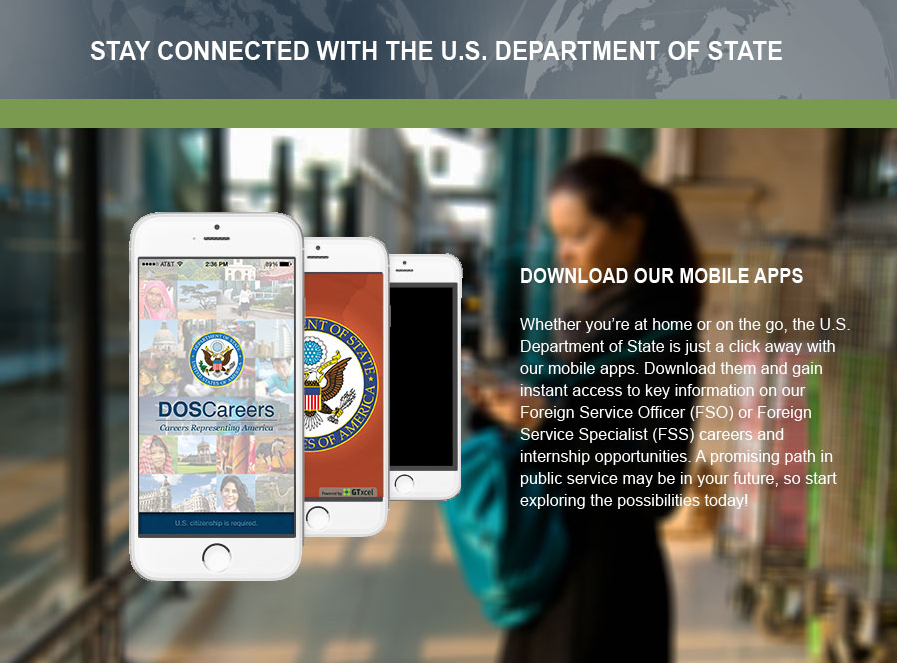 DOSCareers App

View detailed descriptions of the Foreign Service Officer career tracks, the Foreign Service Specialist career paths, Civil Service opportunities, and the Consular Fellows Program. Watch videos featuring employees and their work. Engage with a scenario-based experience that puts you in the role of a Foreign Service professional. Locate and connect with a Diplomat in Residence or find an upcoming recruitment event near you. Or, test your knowledge with over 500 sample questions about U.S. government and culture, world history, technology, economics and other topics.

DOSInterns App Digital Edition

FSCareers App Digital Edition

Read about our Student Internship Program, and discover the educational benefits of this hands-on learning experience. Familiarize yourself with the eligibility requirements as well as the application and selection processes. Learn about our various bureaus and offices, and determine which one is best suited for your major using the guideline chart. You can even get tips on how to prepare for the internship if selected to participate.

As a companion app to DOSCareers, FSCareers explains and provides more detailed information on the five Foreign Service Officer career tracks: Consular, Economics, Management, Political and Public Diplomacy, as well as the eight different Foreign Service Specialist areas: Administration, Construction Engineering, Facility Management, Information Technology, International Information and English Language Programs, Medical and Health, Office Management, and Security. It also focuses on the FS selection and hiring processes and highlights the key character traits – or 12/13 dimensions – of successful Foreign Service employees.